The Ultimate In Aerosol-Free Dentistry
Epic X features three distinct treatment modes and 30 clinical indications, greatly expanding the utility of Epic X laser. Patients have access to Surgery, Pain Relief and Whitening procedures from a single device, ensuring patients looking for best and latest options in Minimally Invasive Laser, Biomimetic and Cosmetic Dentistry are given the best options of Aerosol-Free Dentistry in the current and post covid environment. Safety of our patients, staff and the dental environment we work in comes first.
Create Bright Smiles, Faster
Patients want brighter, whiter smiles. Offer your patients the confidence and benefits of EPIC X laser whitening: The fastest in-house whitening system available: It takes only 20 minutes (vs. 50-60 minutes with other systems). Provides a whitening option for people with sensitive teeth Generate new revenue for your practice Increase referrals with technologically advanced laser whitening Give your patients a beautiful, brighter, whiter smile that makes them feel good Twice as Fast!
Laser Whitening with EPIC X is more than twice as fast as other in-office systems. 60 Min. EPIC X Whitening Other Leading In-Office Whitening Systems20 Min.In-Chair Whitening Time in Minutes. The ergonomic handpiece is comfortable for the practitioner and the patient. Patients appreciate the shorter chair time and higher level of comfort that EPIC X laser whitening provides.
---
A Better Way to Whiten in the Clinic
Epic X is the all-in-one everyday diode laser . This aerosol-free best-seller dental laser features new software technology and a new cordless foot pedal, among other notable innovations. With quick surgical capabilities, numerous hygiene procedures (where permitted), plus modes for Pain Therapy and Whitening, Epic X is a highly versatile, productive instrument.
Whitening is one of the most sought-after cosmetic improvements that patients seek. With a variety of retail and take-home products available, none can achieve the results and immediate impact of in-office whitening.
Research has shown that Epic dental lasers are capable of delivering 6-12 shades (varies by patient) with less than 20 minutes of gel-to-tooth contact time. The laser energy from an Epic laser interacts with chromophores in the proprietary laser-activated gel to accelerate the in-office whitening procedure.
---
The Total Epic Whitening Solution!
Epic X in-office PLUS
Epic White 2Go at home!
Laser Whitening and More
Fastest 20-Min. in-office laser whitening
Provides a whitening option for people with sensitive teeth
Generate new revenue for your practice with tooth whitening, minimally invasive surgery and pain therapy
---
EPIC WHITE 2GO
EPIC TAKE HOME WHITENING TECHNOLOGY
A Better Way to Whiten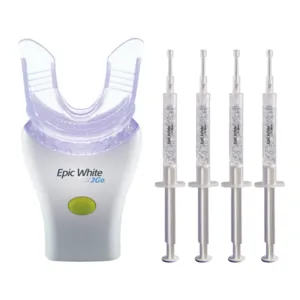 Teeth whitening remains in high demand and can be a steady, reliable source of revenue for practices. With affordable per-patient costs and dramatic results in as little as 20 minutes, your practice can begin benefiting from Epic White 2Go today!
Quick, convenient whitening
Light-activated for faster whitening
Vibration for smooth/even coverage inter-proximally
Eliminates the hassle of custom trays an messy strips
No staff or dental chair time required